Looking to enhance your outdoor living space and make the most out of your garden? Our luxurious louvred and retractable roof systems, the Campania and Campania Deluxe offer a fantastic outdoor living solution that provides style, shelter, and flexibility. This contemporary veranda is perfect for all weathers, in any season, and suitable for any purpose imaginable, from al-fresco dining and family entertainment to relaxing and enjoying the fleeting British summer in your garden.
The louvred and retractable roof systems are undoubtedly the standout features of this range. They are extremely easy to use, operating from a simple remote control, and can be opened or closed to the degree that best suits you, providing you with complete freedom to choose the amount of sun and shade you have in your veranda. They can be paused at any point along their path, making it far easier to adjust the level of sun and shading throughout the day, and find the position that suits you perfectly. This feature also allows you to regulate the airflow into the veranda, and to block out any sudden showers or reduce cold winds.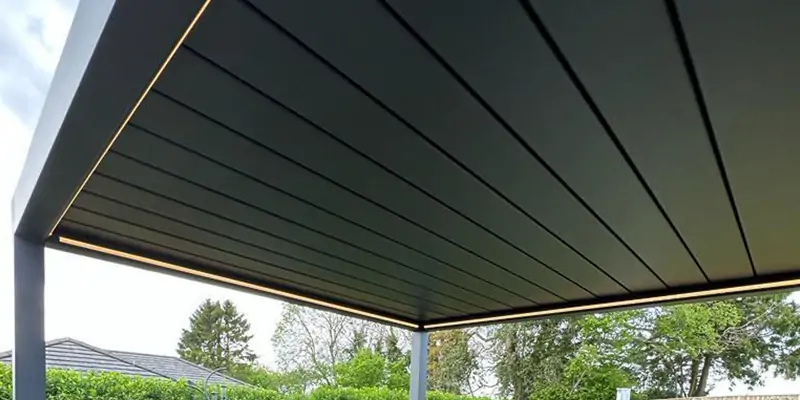 These systems are extremely versatile, offering several customisation options that will help create a space truly your own. Their modular nature allows you to enhance the design with fixed aluminium walls or elegant sliding glass doors at any point after the initial construction, offering greater privacy and the option to choose between an enclosed and open concept space every time you use it. Our frames can also incorporate LED lighting strips around the roofing system, providing you with a more relaxed ambience perfect for cosy evenings in. Available in a range of set sizes, these verandas can be purchased as either a wall-mounted or a freestanding solution, enabling to you to create the perfect outdoor living space anywhere in your garden. You can even join multiple systems together to create a larger, more unique design to suit your vision.
The Campania and Campania Deluxe are a masterpiece of modern outdoor architecture. They boast a sleek, elegant design that is both functional and aesthetically pleasing, allowing them to seamlessly blend into any property's architectural features, or any outdoor aesthetic. Their space-saving designs allow you to create an outdoor living space that does not overly intrude into your garden, while still extending your overall living space and providing a stylish, contemporary place in which to relax and entertain family and friends.
Both the Campania and Campania Deluxe benefit from a sturdy, durable construction. They are built to last, sing only the finest materials in their fabrication and installation. Their aluminium frames and roof systems are light and strong, and all powder-coated anthracite grey, enabling them to withstand anything the British weather can throw at them. They are resistant to rust and corrosion, able to last many years with only light cleaning required, so you can be sure that your veranda will stand up to the elements and continue to look sleek and stylish year after year.
Overall, these verandas are the perfect addition to your outdoor space. With their versatile design, sturdy construction, and stylish aesthetic, they are certain to provide you with a comfortable and functional outdoor living space you can enjoy for years to come.
Interested in our Campania and Campania Deluxe? Call us today on 01902 212 331, or email us at sales@flemingverandas.com to discuss your dream outdoor living space.